Reading Time:
4
minutes
​This shop has been compensated by Collective Bias, Inc. and its advertiser. All opinions are mine alone. #CampbellsShortcutMeals #CollectiveBias
As summer starts coming to a close and we get ready for the craziness of back to school, I always feel a bit like the end of summer is correlated with crazy spending. No one else tempted by all those discount pools at Walmart? Is it just me who feels like this final month of summer costs way more than all the weeks prior?
I have a theory to explain this: In trying to squeeze in the last bit of summer, we give ourselves more freedom and more permission to do the things we want to do.
Have you given yourself permission to do the things you want to do with this final month of summer? If not, I'm giving you permission right now. Don't throw the budget out the window but figure out how to make it work. I mean, I'm in the middle of a road trip from North Carolina to New York, my first time back "home" since before moving to North Carolina nearly a year and a half ago.
In that moment where we're trying to find a little bit more life in these gearing-up-for-back-to-school days of summer, it can be hard to find both time and money to do it all. Today, I thought I'd share one of the newest recipes I've added to my dinner rotation here at home: Shakshuka.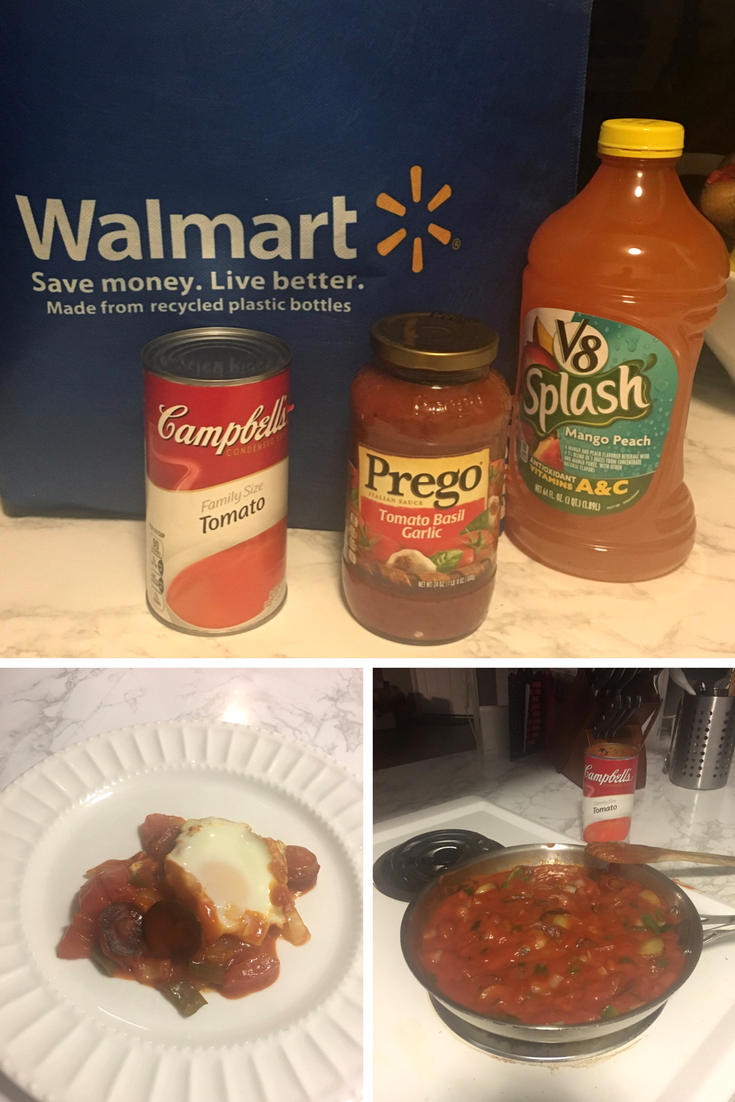 Shakshuka is originally a North African dish- I first made it after we got the recipe sent over to us in one of those meal prep delivery services. It was so easy to make that I just knew I had to keep making it. Shakshuka is easy to make and can be impressive if you're trying to entertain people.
Shakshuka is a tomato-centered dish. While making it with fresh ingredients would be ideal, during back to school since we're so busy living that we'd rather not be cooking. I'm okay buying something that is a little bit more ready so that cooking dinner can be a little bit more of a breeze.
When I was grocery shopping at Walmart, I knew that Campbell's® Condensed Tomato Soup could help me make my shakshuka without having to mash tons of tomatoes, a messy process that I didn't want to do or clean up. This made Shakshuka an easy recipe, even for a weekday! Plus, it's a great staple to have at home. Even if I didn't use it for Shakshuka, I could always pivot to grilled cheese and Campbell's® Condensed Tomato Soup, a quick and easy option for mealtime that will please everyone.
I love that at Walmart I can get everything I need, including my favorite V8 Splash®, packed with a good source of essential antioxidant vitamins A & C, and Prego® Italian Sauce, made with real ingredients you can see, taste, and smell. Being able to do all my grocery shopping in one trip, as well as knocking out a number of errands while I'm already there, Walmart is a one-stop shop that gets all my needs taken care of!
Shakshuka makes for a great dinner, but mostly because it makes it a little bit easier for you to spend more time with your family and not tied to kitchen making an elaborate meal.
Quick, easy, and still-looks-impressive, while being cost effective. That's my kind of dinner.
Click here to visit the Campbell's Shortcut Meals website and get back to school meal inspiration!
Ingredients
2 tablespoons Olive Oil

Half pound Small potatoes, sliced into moderately thin pieces

1 Medium-sized Pepper (I chose Green, but your choice)

1 Medium-sized White Onion

1 Family-sized Can

Campbell

's® Condensed Tomato Soup

Two eggs

Seasonings to taste
Process
Preheat oven to 450.

Put potatoes coated in olive oil in a medium-sized oven-safe pan over medium heat for 5 minutes, stirring regularly. Season to taste.

Add peppers and onions. Cook until onions are translucent. Season to taste.

Add the full can of the family sized

Campbell's

® Condensed Tomato Soup. Let simmer on low heat for 7 minutes. Season to taste.

Using your wooden spoon, carve out space for an egg. Crack egg into the whole. Do it again.

Place whole dish in the oven until the eggs are done to your liking. (I like my egg yolks a little runnier, so I aim for just less than 10 minutes.)
Emilie is a data engineer by day, lifestyle blogger by night, CrossFitter by early morning hours, and Army Wife all the time in between. A Jersey girl at heart, she is currently living in Savannah, GA. Her favorite place is cuddling with Bo, their American Bulldog, on the couch with a good read.