Reading Time:
3
minutes
Fall is one of my favorite times of year! Disappointingly, this weekend's weather suggests that Baltimore may have skipped fall and gone right to winter. Fingers crossed, it will get better before it gets worse. I was channeling fall last week when I got to wear this beautiful fall dress. I am so excited to be sharing it with you and co-hosting The Creative Closet with Jana from Bouvardian and Maegan from The Modern Tulip.
As you probably know by now, I work for a start up and part of my job involves customer service. I have always been a sucker for good customer service and in a lot of ways, it's what helps me decide whether or not I will be returning to a given store. A negative customer service experience will not only prevent me from making a future purchase, but it will also be get me to return what I bought and slam your reputation every opportunity I get.
Earlier this month, I ordered two dresses from The Posh Peach in Columbus, GA. And the post office lost it. After just a simple explanation, the girls over on The Posh Peach team got me two new dresses in the mail right away! Unfortunately, the two that I ordered were gone- one of the realities of a boutique- but I still got two beautiful dresses, this one and the one in the pictures below. As soon as the budget has room, I will definitely be ordering more outfits from here!

Dress: Sold out- Contact The Posh Peach, Boots: Similar here
An outfit like this is so easy to put together. Because of the beautiful neckline and the details around the collar and on the sleeves, you don't even need to pair this with jewelry. A simple top knot keeps my hair out of the way and really lets you appreciate the detailed pattern of this look.
You may remember me showing my lifting progress
last week
. I got such positive feedback that I couldn't resist showing off my new calves. It's a slightly blurry picture, but there's some real definition there. I love feeling good and seeing a difference. I'll have to get a couple of last good fall runs in before the weather gets too cold.
The linkup will go live every Tuesday at 12 am EST. Bloggers will be able to submit their take on the week's prompt. We hope you'll use this linkup to get creative with your style, make friend's, inspire and be inspired, and grow your blogging community. We're so thrilled you want to link up with us!
Here are the rules:
1) Follow your hosts and the week's co-host (first 3 links)
2) Visit and comment on 5 other blogs–don't just share your link and run! That's no fun. Remember to be an encourager! 🙂
3) In your blog post, share either The Creative Closet button or a link back to this post on your blog.
Optional, but oh so recommended:
4) Share your look on social media using #thecreativecloset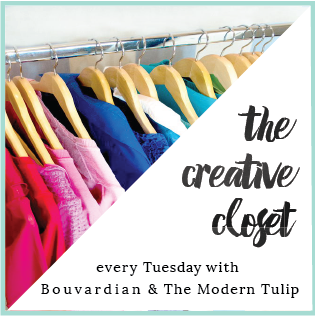 Emilie is an Army Wife, Data Engineer, and CrossFitter with a love for working through her thoughts in this space on the internet. She lives with her husband Casey and their pup Bo in Savannah, GA.